Liquid error (snippets/image-element line 120): invalid url input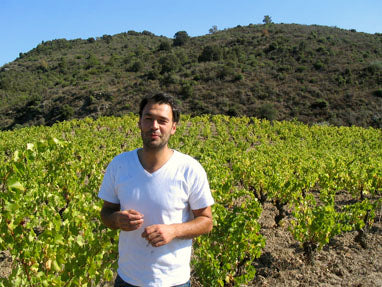 Having suffered for many years from a bad reputation - the "big" reds of the Aude -, the wines of Corbières were given a breath of fresh air when 11 different entities, or terroirs were defined, corresponding to the exceptional geological diversity of this vast appellation (10,000 hectares) created in 1985, In the 2000s, the emergence of a handful of pioneers attached to the most authentic expression of their terroirs, added to this qualitative renewal.
Maxime Magnon, on the terroir of Durban, is the most emblematic of these pioneers. Initiated in the 1990s to a natural approach to wine with various domains adept at organic farming and winemaking with no added sulfur (or very little), Maxime Magnon settled in the Aude in the early 2000s, making wine for a domain in Fitou while starting to work his first vines in 2002, to which he devoted himself fully from 2005. The domain now has 15 hectares of vines spread over three villages of the "terroir de Durban" in the Hautes-Corbières : Villeneuve-les-Corbières, Durban and Cascatel, with schist or clay-limestone soils. The vines are cultivated with extreme care, by hand and by small tractor, without chemical treatments, and the vinification for the reds is carried out in vats in whole bunches at low temperature - like the semi-carbonic maceration practiced by the winegrowers from Marcel Lapierre's "band" (Morgon) - followed by aging in barrels. The estate's white wine is vinified in barrels, also at low temperature. A high-precision work that aims to magnify the terroir and to favor aromatic complexity, balance and elegance.
Nous sommes navrés, aucune cuvée n'est disponible de ce vigneron actuellement.